Business Voice with Webex Collaboration For Your Business
Comporium and Webex worked together to create an all-in-one application that's ideal for today mobile workforce. Business Voice and Webex Collaboration is an all-in-one communications platform that connects your team from multiple locations. The application consolidates HD voice calling, messaging, video conferencing, and screen sharing into one secure, centralized hub. It's the ideal solution for businesses with numerous offices, a remote or hybrid workforce, and employees on the go.
The Benefits of Business Voice with Webex Collaboration
---
An Intuitive, All-In-One Solution
Eliminate the need for other applications while easily accessing one centralized location for HD voice calling, messaging, video conferencing, and other tools.
Productive and Professional
Business Voice and Webex Collaboration offers team members the versatility they need and expect in order to complete tasks and serve clients in real time.
Secure and Reliable
Interact with team members and clients freely and securely with enterprise-grade encryption that keeps your proprietary data and messaging safe.
Flexible and Predictable
Our solution lets you scale up or down as needed. Also, customize call routing and user settings to fit the unique needs of your organization.
Productivity and Mobility Enhancements
Our VoIP solution enables features, functionality and enhanced applications that are not available with traditional solutions. These enhancements give businesses the ability to work seamlessly in and out of the office, resulting in more productivity. Employees, especially mobile workers, can customize these features depending on their daily activity.
Productivity Anywhere
Extends your personal features to any number of fixed and mobile devices. Productivity Anywhere allows users to manage one number for all incoming and outgoing calls, whether it be your desktop phone, mobile device or soft phone.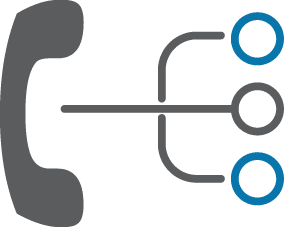 Virtual Receptionist
Automatically answers incoming calls and provides callers with options to reach the proper department or employee.
---
Advanced Call Routing
Enables businesses the flexibility to route calls according to your business needs, making sure the right staff representatives respond wherever they are.
Call Recording
Automatic recording of incoming and outgoing calls as needed to improve customer service, settle disputes, or provide PCI or HIPAA compliance.
Receptionist Console
Web-based attendant console designed for front-line operators and office receptionists to efficiently process inbound calls with ease.
Voicemail to Email
For a truly unified experience, employees manage their voice messages from their email, phone and mobile device. Easily listen to and forward any voice messages directly from your email.
Call Center
Using sophisticated routing policies, route callers to the right queue, with the right priority, then route them to the next available agent using skill-based routing, that benefit businesses of any size or need.
Fax Mail
Enables users to receive fax messages routed as email attachments, eliminating the need for a separate fax line.
Business Voice with Webex Collaboration Packages
Our Business Voice with Webex Collaboration solution offers 3 Webex seat options for your business.
---
 
WEBEX STANDARD SEAT
WEBEX PROFESSIONAL SEAT
WEBEX ENTERPRISE SEAT
 
Webex Desktop & Mobile App: Calling, Messaging, & Video Collab
 
Group Space Meetings
Private Meeting Room Up to 100 Participant
Private Meeting Room Up to 1,000 Participants
BUNDLE INCLUDES
GROUP FEATURES (1 PER BUSINESS)
Toll-Free Number

•

•

•

Auto Attendant - Basic

•

•

•

Auto Attendant - Standard

•

•

•

Conference Bridge Number

•

•

•

Music on Hold

•

•

•

Hunt Group

•

•

•

Call Pickup

•

•

•

Group Paging

•

•

•

Call Park

•

•

•

Receptionist Client

•

•

•

Advanced Call Routing

•

•

•

USER FEATURES
Calling Features
Unlimited Long Distance (US only)

•

•

•

Basic Calling (Call Forward, Call Waiting, Call Transfer, & more)

•

•

•

Call Logs and Call History

•

•

•

Cloud Fax

•

•

•

Voicemail Transcription

•

•

•

Call Recording

•

•

•

Company Directory Search

•

•

•

Voicemail

•

•

•

Voicemail Transcription

•

•

•

Call Transfer (attended, semi attended, blind)

•

•

•

Video Calling

•

•

•

Call Push Notifications

•

•

•

Messaging Features
Presence (Calling, Meeting & Personal Status)

•

•

•

Chat (1 to 1 & Group & File Sharing)

•

•

•

Spaces (Group Chat & File Sharing)

•

•

•

Is Typing Indicator

•

•

•

Message Forwarding between a Space

•

•

•

Search within Space

•

•

•

Emojis, Emoticons & Gifs

•

•

•

Schedule Space Meeting with everyone in Space

•

•

•

Sharing - Screen, Application, Whiteboard, Annotation

•

•

•

Meeting Features
Private Meeting Room
Coming Soon

•

•

Private Meeting Duration
Coming Soon
24 Hours
Unlimited
Group Space Meetings

•

•

•

Meeting Participant Capacity
100
100
1,000
Full Screen and Gallery View

•

•

•

Video Layout options (5x5, stack, side by side, full screen)

•

•

•

Video Meetings Recording
Local
Local
Local
Webex Meeting Scheduling

•

•

•

Application & Screen Sharing

•

•

•

Screen Sharing on Mobile

•

•

•

Virtual Background

•

•

•

Background Noise Reduction

•

•

•

Whiteboard / Annotation

•

•

•

Web Guest Experience

•

•

•

Gestures & Raise Hand

•

•

•

Breakout Sessions & Polling

•

•

•

Delegate your Meetings

•

•

•

Remote Desktop Control

•

•

•

Integrations and Analytics
Single-sign on

•

•

•

Personal Insights/Analytics

•

•

•

Microsoft Teams Integration

•

•

•

Microsoft Office 365 Calendar

•

•

•

Google G Suite Calendar

•

•

•

Slack

•

•

•

Webex Meetings Live Streaming (YouTube, Facebook etc.)

•

•

•
SIP Trunks
---
Comporium SIP Trunks are a cost-effective and future-proof alternative to your voice trunks/lines, giving your business more flexibility, business continuity, and a choice of hosted VoIP applications.
Benefits
---
Reduce communication costs by consolidating voice, video and data traffic over a single network

Improve network efficiency by centrally managing and aggregating connectivity

Support disaster recovery and business continuity efforts with automatic re-routing for voice

Provide mobility solutions to improve productivity for your mobile workforce
PRI Trunks
---
Primary Rate Interface (PRI) – Integrated Services Digital Network (ISDN) Lines are high-quality, all-digital communication services containing 23 channels for voice traffic, which allows for consolidation of all telephone lines into a more efficient solution.
Benefits
---
Prioritize voice traffic with dedicated connection

Access up to 23 voice lines with single connectivity

Consolidate voice, data and video traffic

Reduce capital expenses by utilizing existing cabling and equipment
Business Phone Services and Features
With our business phone service, your business can connect with customers, vendors and employees using a business line with enhanced calling features.
Business Line
We provide dependable basic phone service for businesses of any size. Traditional business lines allow you to handle your routine business calls with the high-quality service from a company you know and trust. In addition to the business line, we offer a full suite of features that enhance your daily business communications.
Rotary Line
Rotary lines allow your business to accept multiple calls at one time. After the first call is accepted, any additional call rolls to the next available line depending on the number of rotary lines your business subscribes to.
Call Forwarding

Call Waiting

Call Return / Repeat Dial

Caller ID

Three Way Call
Call Park

Last Number Redial

Call Trace

Call Hold / Transfer

And Much More...
Voicemail
Comporium Voice Mail answers calls when you are away from your phone or on another call. Additional notification options are also available, such as e-mail notifications of new voice mails and the option to have audio files of voice mails sent to an email account. Comporium voice mail customers have the ability to save, delete, or reply to messages during message review, configure voice mail settings via web portal, forward messages to other Comporium voice mail users, along with many others.
Long Distance
We have the expertise and technical knowledge to help your business stay connected with customers, employees and vendors. Choose from a variety of long distance packages for your business local, nationwide or international calling. Comporium also provides affordable toll-free service giving your customers the ability to conveniently connect with you.
Partnering with the Best
Comporium works with industry-leading partners to ensure you have the best when it comes to VoIP equipment and collaboration services. 
Note: While Comporium offers a wide variety of phones, some makes and models from our partners may not be available.